via
My parents have STACKS of photos.  Photos around the house and photos galore in storage bins in the basement.  We spent lots of time looking at old photographs when we were home.  We've done this periodically throughout the years…..to prepare mementos for major events—a wedding, milestone birthday, graduation, etc.
In today's age of digital photography and online photo albums it seems printing of photographs and storing them that way has gone by the wayside (am I alone on this)?  I have all of my photos stored on the computer and THANK GOODNESS I have a backup subscription or else when my old computer crashed last year I would have lost everything from Maddie's first 2.5 years!  The downside to this approach, though, is that I never edit my albums.  I mean with a digital camera you can take 20 images to get a good one……but I seem to store all 20…..never getting around to editing and purging.
The other downside….since I can see the photos immediately on the screen…..I am very bad about having prints made.  I do not kid when I say there might be one photo of Harry printed in my house….and like 20 of Maddie.  Poor second child.  I want more family photos around the house….mixed with Art and other pretties…..
Here is some inspiration….
Photo Sara Svenningrud via Residence Magazine
James Huniford, Photographed by Pieter Estersohn
Kohler, via
Grace Dumalac Design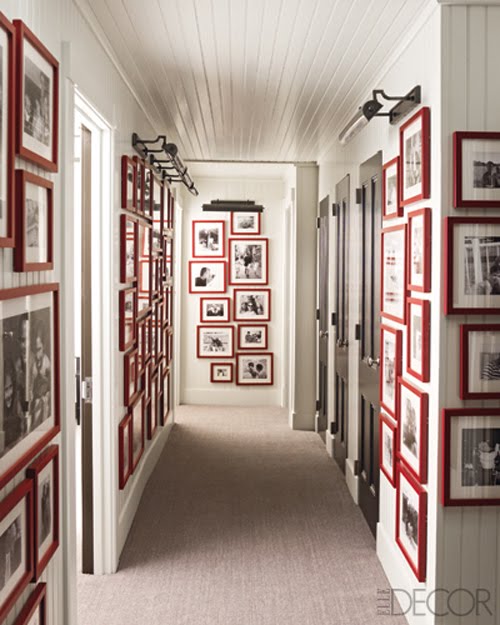 Miles Redd
In our playroom, I am thinking the lone bare wall needs something bold like the photo wallpaper above.  It's on my "to do" list…..  For the rest of the house, my design style is more clean lined and uncluttered.  Plus, for me, I want the wall photos of our family to be upstairs….in our more private spaces.  I really like the simplicity of the Grace Dumalac design.  Downstairs, I have a fair number of photos on our family room shelves….I just need to update them.
Both of the kids have generous built in desks and shelving….getting photos of them with family is on the "to-do" list as well.  Actually, "finishing" those rooms is on my "to-do" list in general.  It's time….
How about you, how do you personalize your home with family photos? 
Any great ideas to share?