ON NOVEMBER 12, 2015 15 COMMENTS
Welcome back as we participate as a link up participant in the Fall 2015 One Room Challenge™.  If you are just finding us today, you can follow the links to see week one, week two, week three, week four and week five.  (You can also see the past challenges we participated in, doing a graphic playroom with Custom Photo Wallpaper, and our light and bright office renovation.) We also played along as a linking participant in the spring, tackling my son Harry's Big Boy Bedroom.  Anyhow, today is the big reveal day and despite the fact that we didn't quite make the deadline, we are close, and professional photos will follow.  Please consider following us on Instagram and we will be sure to post photos once they are done.
The main objective of this challenge was to add seating to the room and work with existing pieces that needed to stay as the budget wasn't unlimited.
A pair of vintage parsons chairs (read–so vintage that cheetoes were stuffed under the cushions when we took possession– see week three for the before) became these, with new fabric.
The built ins will be refreshed post challenge with Phillip Jefferies grasscloth that is sitting in our office waiting to go up.  For more info on why this challenge didn't finish on time, check our post from last week. I am so sad that aspect couldn't be finished in time for photos.  Anyhow I moved the lamps from my office here.   We had chunkier Niermann Weeks lamps prior to the challenge and they have moved to the office.
I found the art at the same shop where I found the Parsons chairs.  The artist, Dara Burriss, was new to me but it was a piece that my husband and I both agreed upon easily and has added much needed color to the space.  I am a new fan.  I pulled a pair of Tibetan Lamb's wool X Benches from the living room for the shot, but there will be a pair of benches from Lee in their place within the next week.  The benches will have bleached oak legs and fabric to match the new, to us, parsons chairs.
Dead space between the family room seating and the open kitchen and eating area was freshened up with a new rug and a pair of chairs.  Pillows are by Dallas artist Megan Adams and were sourced through Blue Print store.
To give you an idea of flow, here is a view of one of the chairs with kitchen just beyond.  We anticipate pulling up footstools and having coffee on weekend mornings, etc.  Chairs will likely be re-covered but, at this stage, fit the bill.  The are beyond comfortable.
Here is one more shot from the space, professional shots to follow.  Promise!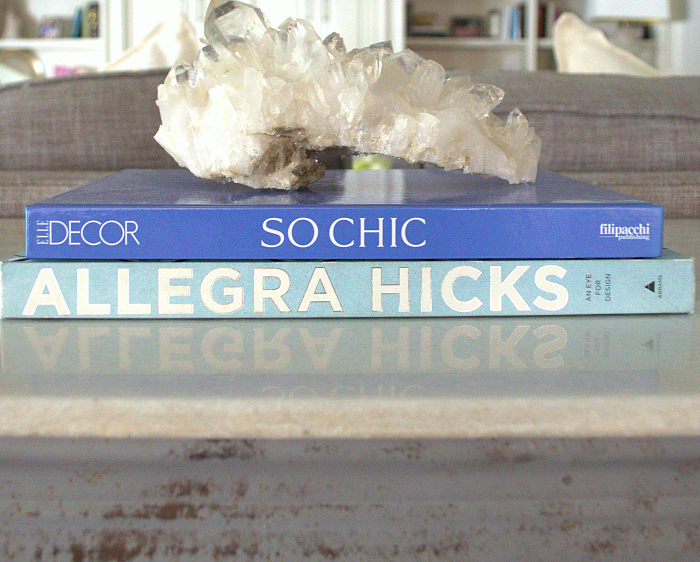 In all, I am pleased with the progress to date.  We have additional seating in the space (four new chairs) and I feel like the room has come a long way.  What is left, you might ask?
The sofa that has conveniently been left out of the shots will be recovered.  I am dropping the fabrics off at my upholsterer today.  The X Benches from Lee are still to arrive and the bookshelves need to be refreshed once the grasscloth goes up.  I'll be honest, along the way I considered making this happen in time to get the room photographed (I could have paid an additional $600 to have the sofa fabric backed in time, begged and paid for the stools to come in in time and papered the shelves only to have to possibly re-do them if our home shifts from the work we just had done) but I feel like that would not have been wise fiscally….and not something I'd advise for a client—so I am trying to follow the same advice I would dish out….
As I tell my clients, it is a process.  The husband of one told me recently that I needed to follow the Amazon prime model (when discussing curtains for their home).  But, with this industry it just doesn't work that way.  And honestly, not to be flippant but it is important to consider your true audience.  As we pulled into the garage yesterday afternoon from Harry's sports practice (he is in Pre-K and just turned 5), Harry said to me "Mommy, I love our home, don't you?"  That is what it is all about, right? Creating a home for your family and how you live.  Bookshelves done and styled perfectly– or not, I have some happy "clients" here….and that makes me one happy designer, and more important, mamma and wife.
Now, head on over to Calling it Home and check out the official reveals from yesterday and my Thursday cohorts to see what they have been able to accomplish in six short weeks.  You won't be disappointed.  Thanks so much, Linda, for the public push to get yet another room on the way to being done.  Thanks to our foundation work….next time should be a good one…as the master bath is on the block!  Cannot wait!
Access "trade only" designer fabric and furnishings via our Consumer Buying Service
Visit our Online Shop for immediate access to a full range of lighting,
textiles and home furnishings.