My obsession love for the Niermann Weeks Annecy chairs are well documented here on my blog. 
Last fall, the folks at Niermann Weeks posted on Facebook that they were selling off some showroom floor samples.  Just off the cuff, I commented that I'd love to see some Annecy Chairs in that sale.  (Because you know, when you are 8.5 months pregnant and about to move…..you need to buy furniture!)
In any case, Eleanor Niermann saw my comment and emailed me.  They didn't have any floor samples to sell….but they did have a few frames they'd be selling in their annual sample sale (which was right at my due date–no way I could make it).  She offered to let me buy them and was even kind enough to hold on to them until I figured out what fabric I wanted to use for upholstery.
Long story short, I still do not know where these will go in the home and I think they were getting sick of waiting on me and gave me the much needed gentle nudge to get moving on my fabric decision.  So, I finally popped over to a local fabric warehouse here and found a very affordable (e.g. $10 per yard) fabric that pulls the cranberry and greens from the curtains I posted about yesterday.
Here are my frames…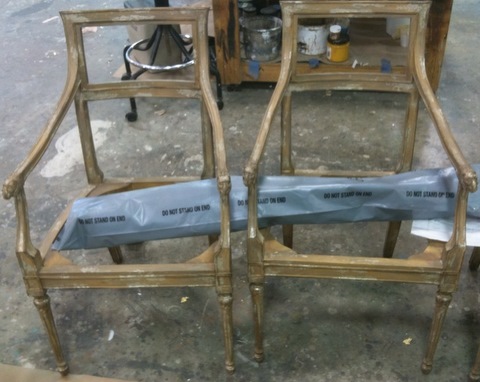 And here is the fabric (sorry, very bad photo…it's all I've got at the moment).
I just got a call yesterday from my local receiver that my chairs have arrived.  I am so excited to see them!  I feel like it is Christmas morning and I am 3 years old.  (Sad, but true!)