In our remodel, I wanted our floors to be as dark as possible.  Now, as I start to think about my office space (in our back-house above the detached garage) I want to replace the carpet for bleached/cerused oak floors.
Bieke Van Houtte
Details A Design Firm, via Houzz
When I think of bleached oak…..I am not talking the shiny blond stuff of the 80s that sort of makes me cringe.  I am thinking a more rustic light wood with movement.  I haven't gotten too far on the plan for the space.  I know I want a huge work table that will double as a fabric cutting table.  And, I know I want to incorporate in this green wallpaper from Quadrille (which will be sold in my shop when I launch).  I am thinking of using it on the ceiling….or perhaps in the kitchenette/bathroom area (where I am hoping the budget will allow the swap out of formica countertops for marble).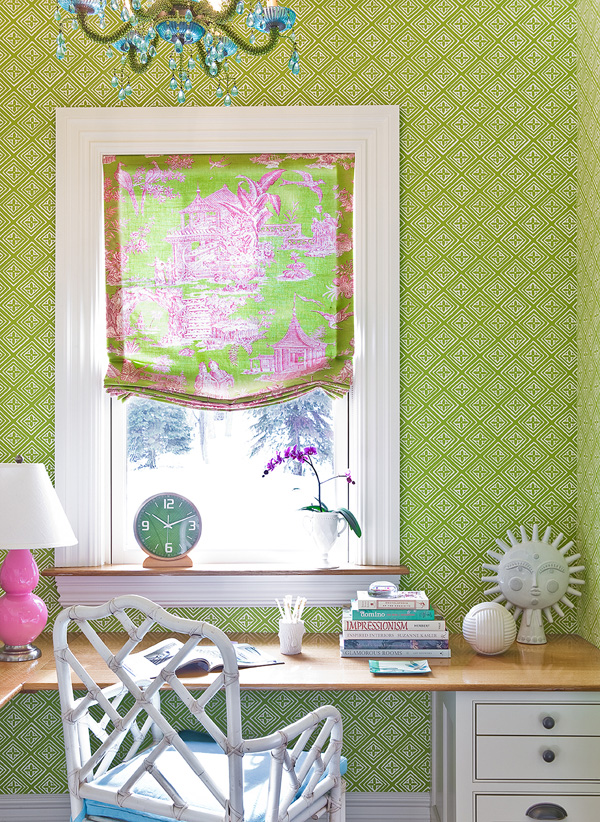 Katie Rosenfield
Currently, the space has two twin beds for overflow visitors.  Those will swap out (relocating to Harry's room when the crib goes) for a neutral sofa with a nice pull out bed (anyone have brands they recommend that are comfy?)  And I know I want to do a chair or two in this fabric from Schumacher. 
Finally, this new table that Worlds Away introduced this spring is begging to be used in a project…..so it might find its way into my plan.  (It comes in white and navy lacquer as well).
This project will probably not kick off until at least August as we have some hectic months ahead, but I am anxious to get my office set up properly (you should see the shambles it is in at the moment) so I can do a better job of separating the space between work and personal time.  I am not good at this at all…..and my goal is to get to a point where the office door closes and so does work!   I can hope, right?
Happy Monday!