Buying Service Product Highlights
Do you remember these rooms?
They made the blog rounds some time ago.
The light was the show-stopper in my opinion.
Lee Industries is one of my go to upholstery vendors.  They have great products and a relatively affordable price point, given the quality.  They also have a great selection of fabrics in their program which can help keep costs down vs. doing your own fabric on their frames (COM).
I have their barstools in my kitchen and everyone loves them because they are comfy with the back and have a nice solid footrest.  The host/hostess chairs at our kitchen table are also from Lee.   (Excuse the photos….they were taken right after we moved in post remodel…the chair cushions have been re-done and the kitchen looks more "lived-in" a year and a half later).
Read more »
While cruising Pinterest the other day I saw this photo from one of my favorite Dallas stores, BluePrint.
Read more »
Hope your week is off to a great start.  We survived the first day of Kindergarten and preschool which is a large weight off my shoulders.  I am a bit short on time this morning…..so I thought I would share a few things on my radar at the moment. 
I love all of the details in the space below.  So clean, yet so put together!
Thornton Designs
I need to get over to the Dallas Market center to see this piece of furniture in person.  I love the lines but it might be too large (tall) for where I want to use it.  I am thinking of getting a custom piece made with heavily antiqued mirror on the doors and solid wood on the sides.
Global Views
I snagged this image from the Lilly Pulitzer Instagram feed last week.  I have yardage of that yellow Lilly fabric in my remnant stash for sale.
Lilly Pulitzer Instagram
I am in love with all of these fabulous pillows and pinned this to remind me to call my seamstress as I need to get cracking with my fabric hoard!
PB Teen
What is on your radar these days?
If you've read my blog for a while you know I love Louis Philippe mirrors.  In fact, I have the Made Goods silver version in my foyer.  I probably get a couple of people a week asking for quotes on the Made Goods and Eloquence versions.
Ashley Goforth
The geode popularity is nothing new…..but honestly, I have been so busy and focused on the big stuff at home that I am in desperate need of some accessorizing.  I just got roped in to hosting an event in our home in October (why am I unable to say no?) and it is the kick I need to get the downstairs as close to done as possible.
Melody Duron via House & Home
Jonathan Adler
The relaxed and casual vibe of linen.
Who doesn't like the look?
Donna Temple Brown
source? (Architectural Digest?)
Lisa Luby Ryan (from Veranda)
I cannot tell you how many emails I get from people asking me to recommend the most durable options.  While I am happy to steer you in the direction of products I personally like, I always recommend you order a sample and see for yourself.  I do it myself (see my kitchen counter experiment and my kitchen fabric test).  With this said, I was excited when I met with my new Thibaut rep recently to find a beautiful, and practical, collection of English linens that are MOSTLY all cold water machine washable.  They come in 67 different colorways.
The collection is manufactured at a mill in Great Britain and are each VAT dyed which give them a high level of colorfastness.  They all have an "Aero" finish that softens the fabric and reduces the wrinkling effect that is often charactersitic of linen.  This collection is great for slipcovers, draperies and, despite the soft feel….they are all upholstery grade.  The line is a combination of 100% linen and some linen blends thrown in (cotton/nylon) to give extra stength.  And perhaps best, they are considered "in stock" items which generally have very little lead time from order.
With 67 colors, there is something for everything.  But I am sitting here this AM with bad light and only my iPhone, so the above are the only ones I am sharing now.  If you are looking for a specific color, feel free to contact me for more info.  I have recently received all of my Thibaut sample books and feel like a kid in a candy store going through all of their new stuff!
And on an unrelated note, hope you have a great week.  My husband has been in Australia for a week and we are so excited he'll be back on our sie of the world again this afternoon. Yay!
For pricing and purchasing help on anything you see on the blog, please contact us for assistance.
Last Friday I spent the afternoon at the design center here in Dallas with a client and friend.  She's found a great mid-century gem of a sofa and was looking for fabric.  She wanted velvet, her husband wanted linen.  What they ultimately chose was a compromise between the two of them and will look great in their space.  They are doing a mix of vintage and more traditional pieces in their home and the end result will be fabulous.
Here was one set of options we had considered for the room……but it got a quick "no" from the husband.  Thought I would share, in case someone else is in need of a little inspiration.  I wish I had a beach house…..this would be perfect.
First, we found this Kravet heavy duty (they have three young children) cotton/poly velvet.  It is Laura Ashley, a good price point and feels really good.  The color looks a bit off on my monitor…..it is a nice beige velvet, almost like a deep camel color.  (I'll let you know in advance that the husband's only request was grey linen so we knew we had an uphill battle on this set of options.)
We had planned to do two chairs, the "traditional" pieces in the room, in a modern floral from Anna French's new collection.  I am not going to lie….I am sortof obsessed with the fabric at the moment.  It is so pretty.  Plus, as an added bonus if you use a Thibaut or Anna French fabric on a Thibaut upholstered piece….they offer attractive incentives to do so.
Finally, we selected a complimentary stripe for another chair and ottoman that has more modern lines….on a frame….not fully upholstered.
With the fabrics selected (not these) she and I are headed to look for chairs today.
Wish us luck.
PS–See anything you like here, contact me for pricing and for help purchasing.
You might recall that our kitchen has Chippendale chairs from Guildmaster.  The chairs are discontinued and we have had nothing but problems with these chairs since we purchased them.  The latest is the chipping of the finish where they push in to the table.  Eventually, they'll be replaced but in the meantime I just have touch up paint to keep them looking presentable.  You definitely get what you pay for…..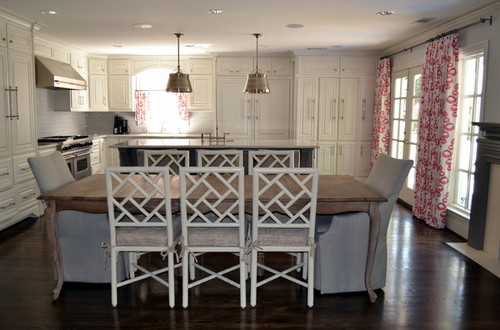 Sorry for the old photo….we actually took two of the chairs away from the table for everyday use, looks better….less crowded and the cushions on the chairs were swapped out to this (Galbraith & Paul with a Pindler flange).
Anyways, I know what chair I want when these finally bite the dust….and I wish I'd had them on my radar back when I was doing the kitchen.  The Hickory chair "Fretwork" chair has the look I want and a solid American made reputation to back it up.  They aren't bargains but Hickory Chair is great quality so they will have longevity.
Muse Interiors
Meg Braff, Thibaut Jeanson for House Beautiful
Tobi Fairley
What do you think?
PS–I am happy to help you purchase these chairs or anything else from Hickory Chair,  so feel free to contact me for a quote.  However, I will tell you that for whatever reason you can often find Hickory Chair furniture retail at large furniture stores in NC for less than designer pricing.   Probably because they are stocking high quantities and do a lot of volume.  I always recommend that people who contact me for pricing shop around just to be sure they are getting the best price.