Buying Service Product Highlights
Lee Industries is one of my go to upholstery vendors.  They have great products and a relatively affordable price point, given the quality.  They also have a great selection of fabrics in their program which can help keep costs down vs. doing your own fabric on their frames (COM).
I have their barstools in my kitchen and everyone loves them because they are comfy with the back and have a nice solid footrest.  The host/hostess chairs at our kitchen table are also from Lee.   (Excuse the photos….they were taken right after we moved in post remodel…the chair cushions have been re-done and the kitchen looks more "lived-in" a year and a half later).
Read more »
While cruising Pinterest the other day I saw this photo from one of my favorite Dallas stores, BluePrint.
Read more »
Hope your week is off to a great start.  We survived the first day of Kindergarten and preschool which is a large weight off my shoulders.  I am a bit short on time this morning…..so I thought I would share a few things on my radar at the moment. 
I love all of the details in the space below.  So clean, yet so put together!
Thornton Designs
I need to get over to the Dallas Market center to see this piece of furniture in person.  I love the lines but it might be too large (tall) for where I want to use it.  I am thinking of getting a custom piece made with heavily antiqued mirror on the doors and solid wood on the sides.
Global Views
I snagged this image from the Lilly Pulitzer Instagram feed last week.  I have yardage of that yellow Lilly fabric in my remnant stash for sale.
Lilly Pulitzer Instagram
I am in love with all of these fabulous pillows and pinned this to remind me to call my seamstress as I need to get cracking with my fabric hoard!
PB Teen
What is on your radar these days?
If you've read my blog for a while you know I love Louis Philippe mirrors.  In fact, I have the Made Goods silver version in my foyer.  I probably get a couple of people a week asking for quotes on the Made Goods and Eloquence versions.
Ashley Goforth
The geode popularity is nothing new…..but honestly, I have been so busy and focused on the big stuff at home that I am in desperate need of some accessorizing.  I just got roped in to hosting an event in our home in October (why am I unable to say no?) and it is the kick I need to get the downstairs as close to done as possible.
Melody Duron via House & Home
Jonathan Adler
You might recall that our kitchen has Chippendale chairs from Guildmaster.  The chairs are discontinued and we have had nothing but problems with these chairs since we purchased them.  The latest is the chipping of the finish where they push in to the table.  Eventually, they'll be replaced but in the meantime I just have touch up paint to keep them looking presentable.  You definitely get what you pay for…..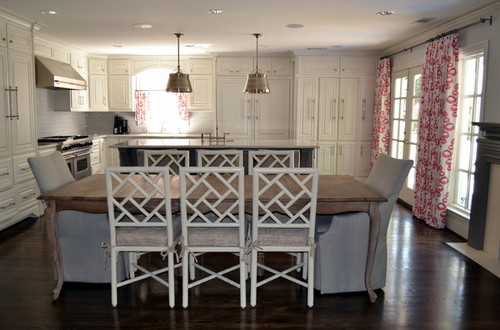 Sorry for the old photo….we actually took two of the chairs away from the table for everyday use, looks better….less crowded and the cushions on the chairs were swapped out to this (Galbraith & Paul with a Pindler flange).
Anyways, I know what chair I want when these finally bite the dust….and I wish I'd had them on my radar back when I was doing the kitchen.  The Hickory chair "Fretwork" chair has the look I want and a solid American made reputation to back it up.  They aren't bargains but Hickory Chair is great quality so they will have longevity.
Muse Interiors
Meg Braff, Thibaut Jeanson for House Beautiful
Tobi Fairley
What do you think?
PS–I am happy to help you purchase these chairs or anything else from Hickory Chair,  so feel free to contact me for a quote.  However, I will tell you that for whatever reason you can often find Hickory Chair furniture retail at large furniture stores in NC for less than designer pricing.   Probably because they are stocking high quantities and do a lot of volume.  I always recommend that people who contact me for pricing shop around just to be sure they are getting the best price.
Sorry for the silence last week but my sister and I met up in Naples, Fl for an extended long weekend visit.  Other than the stomach tumbling landing during tropical storm Andrea, the trip was great.  We had one rainy day…..which gave us the perfect excuse to spend it at the spa followed by plowing through a book and a nice dinner.  Perfection.  Saturday we were surprised by the beautiful weather and I have an embarrassing sunburn to prove it.
In any case, I've been admiring a line of clothing designed by Elizabeth McKay online for a while and was happy to be able to see her clothes in person while shopping in Naples.   Such cute stuff and totally my style.
Anyway, Elizabeth and Teddy McKay's home was recently featured in Matchbook magazine and I love her home as much as I do her fun line of clothing.  Go here to see the article and more photos.
Photography by Fred Castleberry for Matchbook
Photography by Fred Castleberry for Matchbook
Photography by Fred Castleberry for Matchbook
I love the young and fun vibe in her home.  Seems like such a cheerful place.  Also, I love that all of the fabrics in the above photos will be available in my shop….just saying.
See anything you like?
Miguel Flores-Vianna, Veranda
Victoria Pearson, House Beautiful
Photographer Unknown
I love Kathryn's work and have loved the glimpse into her life and professional process on Million Dollar Decorators.  She already has her own fabric line.  However, she has recently teamed up with Scalamandre with a licensed collection.  Take a look……
Geoffrey Sokol, Architectural Digest
Geoffrey Sokol, Architectural Digest
Scalamandre
It is a great collection with a little something for everyone.  To see the full line, go to Scalamandre and scroll through the Spring 2013 collections.
I am one meeting away from being off for the long weekend.
Anyone else ready to welcome summer?
One of my favorite things in my business is to source new and exciting products. One of my Dallas showroom reps. had introduced me to a great new (to me)  line a while back. I've recently learned I'll be able to carry a curated selection of their products in my new shop. I am really excited about this line because not only are their products great, but for a modest up-charge, they will finish any product in a Benjamin Moore color. Or, if you don't know the color….but have something you are trying to match, you can send a swatch and they'll color match. Love it!  In the age of mass produced stuff….I love the ability to be able to customize at a relatively affordable price point.  Want to see some of the stuff I'll be carrying in the shop?
I love the daybed above.  Can you imagine it in a fun color for a little girls' room.  But even more fun, they offer it in a hanging version…..  (I kindof wish I was on said daybed with a glass of wine and a stack of design mags instead of sitting in my office working!)
I love the lines and the shiny finish on this little side table.  Thinking I might need to be the guinea pig and try one out in our guest room.  I also love the wicker chairs below…..and they will also custom color the wicker as well.  Fun, right?
And while they have a large product catalog, I am choosing an edited version of my personal favorites at launch.  For some reason, I am finding myself drawn to their beds.
Imagine a pair of the Nevis beds, above, in the twin version and a fun color for a child's room.  So many possibilities.  And finally, I love the lines on the below dresser, which also comes in a smaller side table.  I have been contemplating a pair for our master bedroom.
Do you see anything you like?  Want to check out the full line?  Head over to the vendor, Palu Ltd, and take a look.  While a curated selection of their products will be in my shop when I launch, I can help with anything in their catalog through my buying service at the moment.
And with that, I am off for the day.  We have a quiet weekend planned which is a welcome change.  My husband has been traveling all week, Harry finished school, my attempt at a mid-week girls night out ended in rushing home to my sitter as terrible weather took us all by surprise (leading to a 9 PM clean out of the closet under our stairs!)  and Maddie's activities seemed to have accelerated as the end of school approaches.  Hoping to push a few home products forward, post some more fabric remnants and get a little yard work done.  What is on tap in your world?
Almost a year ago, I signed on with a web designer to launch my new shop.  At the time, we thought we would launch in September 2012 at the latest.  Almost immediately after this decision was made, I found out that my mother had very limited time left with us.  If you have followed my blog for a while, you know the kids and I packed up and headed to Virginia to be with her for the better part of last summer.  It was a gift for Maddie, Harry and me to be able to spend so much time with her and my family.  She passed in September and while I still miss her every day, I have no regrets or worries that there were words left to be said before she went.  She was an incredible mother and she and my Dad blessed us with their love and support.
Easter 2012
In the Fall, after mom's service and with the kids back into their routine I got back to work on the website.  It was clear at the time that I did not have the right team in place to execute my vision for the site.  When I do something, half way isn't an option.   And when I have something in my mind, I cannot settle.  I'd rather wait and get it right.  So, this led to finding web designers who could take my vision and find a solution to make it happen.  This meant changing platforms and back-end functionality.  All of this has taken hard work and time.  And, we are nearly there and had agreed to launch later this week.
But I'll admit, a few weeks ago when we were in a forced holding pattern due to a server upgrade….I enjoyed the time away from the technology.  I played with my kids more….I was nicer, less stressed.  More home cooked meals made it on the table….and playdates happened, walks to the park happened, decorating around my own house pushed forward, etc.  These two precious little ones got a lot more of my attention.
Summer is knocking at the door and I've been worried about launching the new store while we have lots of family plans.  While I have no doubt it all could get done……I've been questioning whether it needs to.  Waiting to launch the shop by a couple of months isn't going to bring the end of the world (hardly!).  Coming to that decision has lifted a huge weight off my shoulders.  I can add a few new vendors I was going to do after launch and get things tweeked and ready to go…..but wait to launch until I am ready.  When I am not feeling like I am taking away from my family…..the two priorities competing within me.
With the overwhelming support of my husband and the agreement of my web guys I am guessing we will launch in late July or August.  I feel great about this decision….and know that I'll start this new venture feeling rejuvenated and excited to expand a business that has been my little baby for the past 4+ years!
In the meantime, I am going to create a new board on Pinterest to sell some of my fabric stash.  The fabric will go up as I have time to photograph it—so check back often if you are looking for something.  It will be for sale for a limited time (I'll take it down mid June at the latest) and will be one time deals.  The fabrics are primarily Quadrille and Shumacher, with some Raoul and a few other things thrown in.  If you see something you like, you just email me and I'll send you a paypal invoice.  Easy.
Finally, my trade only buying service will remain active and up and running throughout the summer.  So, if you need a quote or help with home decor related purchases, contact me as usual and I am happy to help!