Another month gone by and this blog has been neglected. School is out and I have been very busy with the kids, volunteer commitments and my business. All is good…just busy! Here are some random updates.
First, to see what I am up to (if you care) I am good about keeping you posted on Instagram.  If you have been following me you know that my office reno (at least the construction parts) are nearly done.  Carpet went out, wood floors went in, cabinets replaced with subway tile and reclaimed wood shelves.  I met with my workroom yesterday and hopefully window treatments will be in later this summer.
Here are some instagram teasers.  I'll do a proper post when the space is close to being done!  I cannot tell you how different the space now feels!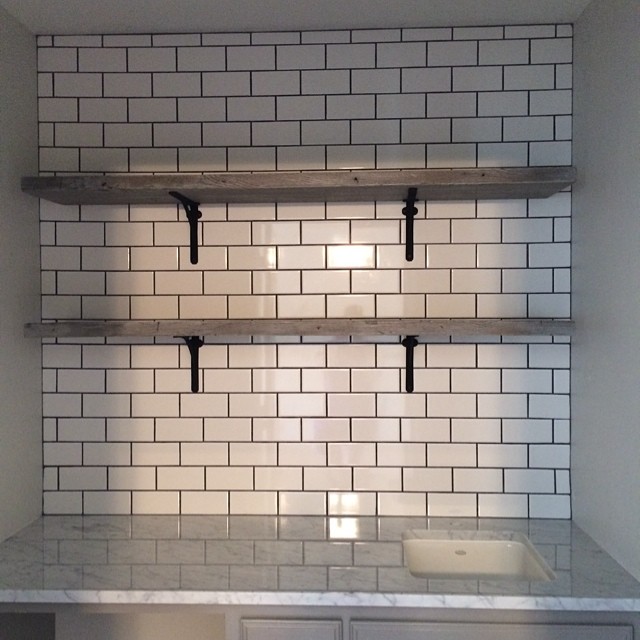 In the shop, I have been busy updating things.  We are working on getting the latest and greatest from Quadrille up on the site.  They have been busy in the first half of the year, updating and re-imagining old favorites and introducing several new patterns.  I was in the showroom earlier this week speaking with the Dallas showroom manager and the National Sales Manager and was told that the 2nd half of the year will be all about wallpaper.  Very excited.
Here was an Instagram snap I did a few weeks ago on a new favorite Ikat from Quadrille…..they are doing lots of lavender and pale pink at the moment.  Loving it!
We recently added these glass knots to the shop.  They would look great styled on top of a stack of books!

Also, keep posted for new updates in the shop.  We are in the process of adding the new Mary MacDonald wallpapers for Schumacher, a complete line of fabrics (Greenhouse), a new line of linen backed Intaglios, a new line of decorative lighting, etc.  This is market week here in Dallas and I had some great appointments on Wednesday and picked up a line I've been wanting for a while.  It is great to be able to meet the decision makers in person.  I am back there tomorrow and will be sure to post what I am seeing on Instagram.
In the meantime, if you are interested in getting shop updates and coupons, be sure to join our newsletter.  We mail out no more than once and week and realistically, usually only once or twice a month.  You can join by signing up at the top right of our shop page.
Finally, in our mailer that went out yesterday we offered 15% off everything site-wide (excluding fabric and wallpaper) through June 30, 2014.  So, whether you have been eying a Jonathan Adler Chandelier or a bookend, use code JUNE15OFF, to save!
Hope you have a great weekend!
Access "trade only" designer fabric and furnishings via our Consumer Buying Service
Visit our Online Shop for immediate access to a full range of lighting,
textiles and home furnishings.